History & Mission
The mission and focus of the Griffin Foundation, Inc. for the past 24 years has been to enhance the lives of children through education, childcare, health, and nutrition.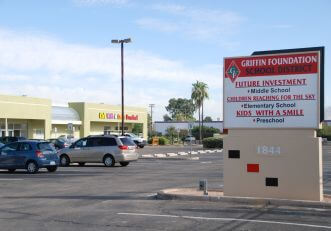 Mission Statement
                                            2018
The Griffin Foundation, Inc. was established in Tucson, Arizona, in 1994 as a 501(C)(3) nonprofit organization. The foundation was named after the founder, Mr. Lee Griffin, because of his commitment, vision, and dedication to enhance the lives of children through education, childcare, health, and food nutrition.
Mr. Griffin has been in education 24 years and brings a wealth of knowledge both in education and business. He has designed, organized, and implemented 3 educational institutions (Kids with a Smile Preschool, Children Reaching for the Sky Elementary School, and Future Investment Middle School).  His vision has not changed since the beginning; he still has hopes of offering high school education opportunities to students in the community.
Mr. Griffin, prior to starting the foundation, worked in Industrial Engineering and Cost Account Management for General Dynamics, Convair Division, San Diego, CA. He managed a budget of over 4 million dollars in the Industrial Engineering Department of the Advanced Cruise Missile Program.  In addition, he worked for the Federal Government, United States Army Information System Command at Fort Huachuca, Arizona, as an Operations Management Consultant.  He also served in the Army towards the end of the Vietnam era and was stationed at the Fort Huachuca Electronic Proving Grounds in Sierra Vista, Arizona as an Electronic Technician.  After serving his country, he graduated from the University of Arizona, in 1984, with a Bachelor of Science Degree in Operation Management and Management Information Systems. Mr. Griffin's hometown is Baton Rouge, Louisiana.
Our faculty and staff have dedicated their lives to create an everlasting experience for children to attain a quality education in a positive learning environment. Students learn about family, unity, team, goals, discipline, and respect while receiving a quality education. Students are taught using 21st Century learning methods in Science, Mathematics, Finance/Stock Market Investments, Entrepreneurship, & Computer Technology in a global economy. The district offers online assessment practice through the use of Study Island. Students are able to logon via the internet from home or on vacation to practice assessments covering Math, Language Arts, and Science. We also offer sports programs to elementary and middle school students when coaches are available and provide a before-and after-school program that is licensed by DHS/DES.
To assist students that are academically struggling in class, our district offers before and after school intervention classes in Math and Reading, as well as tutoring pull-out program in Math and Reading when grant funds are available. The Griffin Foundation School District hires certified teachers from across the country, including Arizona certified teachers. This past school year the Griffin Foundation School District has worked with teachers from the Philippines in an exchange program. These teachers come with many years of teaching experience. Our students learn within a structured, positive environment focused on 21st Century learning.
I wish to thank the parents for making a difference in our students' education. The Griffin Foundation School District has high expectations of our students with many great things still to come, such as a mobile computer lab and a variety of new software programs for assessment and educational growth; with support and involvement of our parents, the sky is the limit for our students.
Sincerely,
Mr. Griffin
GFSD Superintendent
A Building Block to Success
1.     I SHALL RESPECT THE INDIVIDUAL RIGHTS OF OTHERS AND EXPECT OTHERS TO RESPECT MY RIGHTS.
2.     I SHALL HAVE PRIDE AND CONFIDENCE IN MYSELF.
3.     I SHALL CONTINUE TO MOVE FORWARD BY SETTING PERSONAL GOALS.
4.     THROUGH KNOWLEDGE AND EDUCATION THERE ARE NO LIMITS ON WHAT I CAN ACHIEVE.
5.     I SHALL STAND BY MY COMMITMENTS AS WELL AS TAKE RESPONSIBILITY FOR ALL MY ACTIONS.
6.     I SHALL EXPERIENCE FAITH, HOPE, AND LOVE HUMANKIND.
7.     I SHALL ACKNOWLEDGE AND APPRECIATE THE HISTORICAL ACCOMPLISHMENTS OF THOSE WHO HAVE COME BEFORE ME.
"Children are our future leaders of tomorrow"
Creed written by the founder: Lee Griffin
Click here for Printable Copy:  CRS Creed
FIMS's MOTTO
The only limitations I have are the limitations that I place on myself. If I rise to the level of my expectations, success will follow me. 

I am, I shall, and I will be BRAVE 

Believe – to have confidence or faith in the truth. Only if one believes, can one act with purpose.   

Rise – advance to a higher level of status, action, thought, or feeling. 

Act & Achieve – Anything done or performed; action; deed; to bring to a successful end; carry through; accomplish. 

Visualize – make perceptible to the mind or imagination; to form a mental image that is not present before the eye at the time. 

Evolve – to come forth or develop gradually into being; to evolve a style of one's own.    
                                                                      Creator: Lee Griffin
Click here for Printable Copy:  FIMS Motto
The Griffin Foundation School District has a written policy or policies prohibiting discriminatory harassment or bullying of students on the basis of sex, race/color/national origin, and disability. Written policy or policies must be for all the categories of discrimination.